SEND CARGO IN JULY! RECEIVE A NORTH STAR AIR SCRATCH & WIN TICKET!
While we celebrate our 25th Anniversary in the skies and our Grand Opening of our Winnipeg Cargo Hub, North Star Air wants to reward our customers that send cargo to the North! When you ship your cargo from our Winnipeg Cargo Hub in the month of July, receive one FREE SCRATCH & WIN ticket.
Every time you ship your small, large and over-size Cargo from our Winnipeg Hub in the month of July, receive one FREE Scratch & Win ticket for your chance to WIN the Grand Prize of 200 lbs FREE CARGO ONCE A MONTH FOR THE WHOLE YEAR! That's right FREE 200 lbs CARGO ONCE A MONTH FOR A YEAR!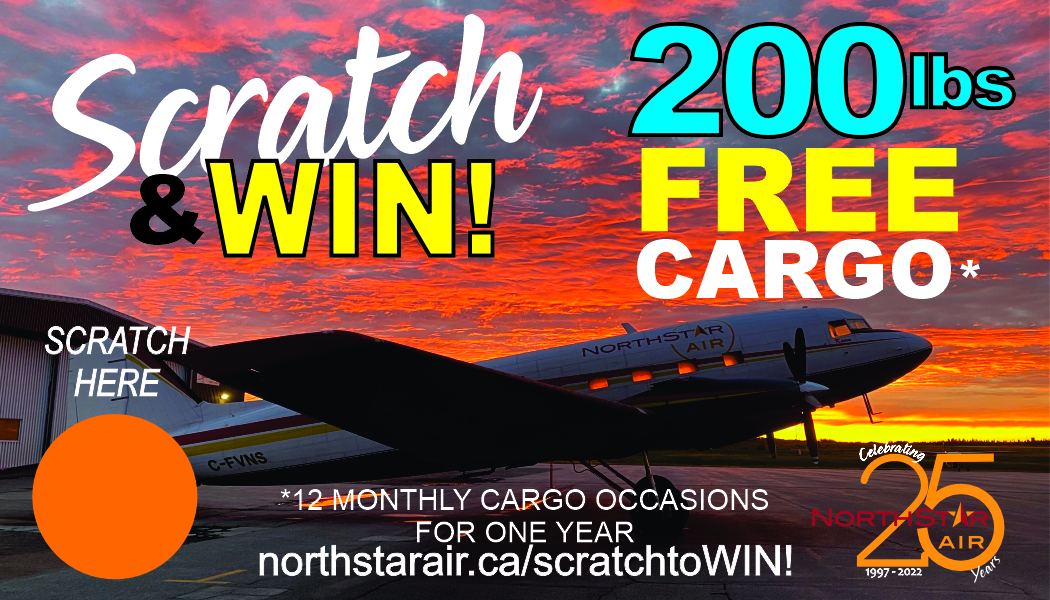 You could be the Grand Prize winner of 200 lbs Free Cargo Once A Month For A Whole Year!
Prize structure:
GRAND PRIZE = 1 customer to win 200 lbs Free Cargo Once A Month For A Whole Year! (See conditions and restrictions below)
2nd PRIZE = 1 customer to win Outdoor BBQ Grill, propane tank, NSA apron & hamburger package
3rd PRIZE = 10 customers to win NSA 25th Custom Hoodie
4th PRIZE = 20 customers to win NSA Baggage Tag
BALANCE OF TICKETS: Please Try Again!
Grand Prize - 200 lbs FREE CARGO must be accepted as awarded and is not transferable and has no cash value and cannot be convertible into cash. Grand prize cannot be combined with other discounts, promotions or special offers. By accepting the prize, the winner agrees to abide by any terms, conditions and restrictions placed on the prize.
Twelve total occasions, one per month, for one year - 200 lbs FREE Cargo
Cargo occasions must be used in the one year period from the winning date
Cargo occasions must be booked in Winners Name Only, no transfers to other parties
All paid cargo shipments during July 4 and July 31 will receive one NSA Scratch & Win Ticket. There is no age restriction.
Odds of winning the Grand Prize are 1 in 1000
Grand Prize consists of 200 lbs of Free Cargo Once A Month for a Whole Year. Shipping from Winnipeg
Second Prize consists of one Outdoor BBQ Grill, Propane Tank, NSA Apron & Hamburger Package
Third Prize consists of ten NSA 25th Custom Hoodies
Fourth Prize consists of twenty NSA Baggage Tags
Balance Of Tickets = Please Try Again
Limited quantity of tickets, while supplies last
GOOD LUCK EVERYONE!