Wake the Giant Music Festival is back!
And North Star Air wants to send you and a guest to this world-class event that celebrates inclusivity and Indigenous culture!
PLEASE NOTE! IMPORTANT MESSAGE FOR ALL WAKE THE GIANT MUSIC FESTIVAL ATTENDEES & TICKET HOLDERS
On August 31st, Wake the Giant Music Festival has announced an Entry Vaccination Policy. Wake the Giant Music Festival will require ALL ticket holders and attendees to show proof of full vaccination or a negative COVID-19 test taken within 72-hours, before entering the event grounds. Children 2 to 11 years of age are exempt from this policy but ALL attendees will need to be masked except when consuming food or drink in designated eating areas. Wake the Giant remains committed to keeping recovery efforts moving forward in our community. It's about taking care of all the people around us and getting back to live music safely. Thank you for your cooperation in helping to make the event a safe place to celebrate music and culture together.
Congratulations goes out to the organizing team for this years' Wake the Giant Music Festival! On Saturday September 18th, Thunder Bay will once again be home to the 2nd annual Wake the Giant event with a list of performers that you won't want to miss!
Held at the Thunder Bay Waterfront, the list of performing artists include Jessie Reyez, Third Eye Blind, Loud Luxury, William Prince, DJ Shub, Northern Cree, Jingle Dress Dancers and more!
Wake the Giant is a cultural awareness project aimed at creating a more welcoming and inclusive city for Indigenous people, youth and their communities. The movement started in Thunder Bay in 2019. The music festival is a celebration of all cultures with a focus on Indigenous artists and musicians. More information on Wake the Giant event can be found here!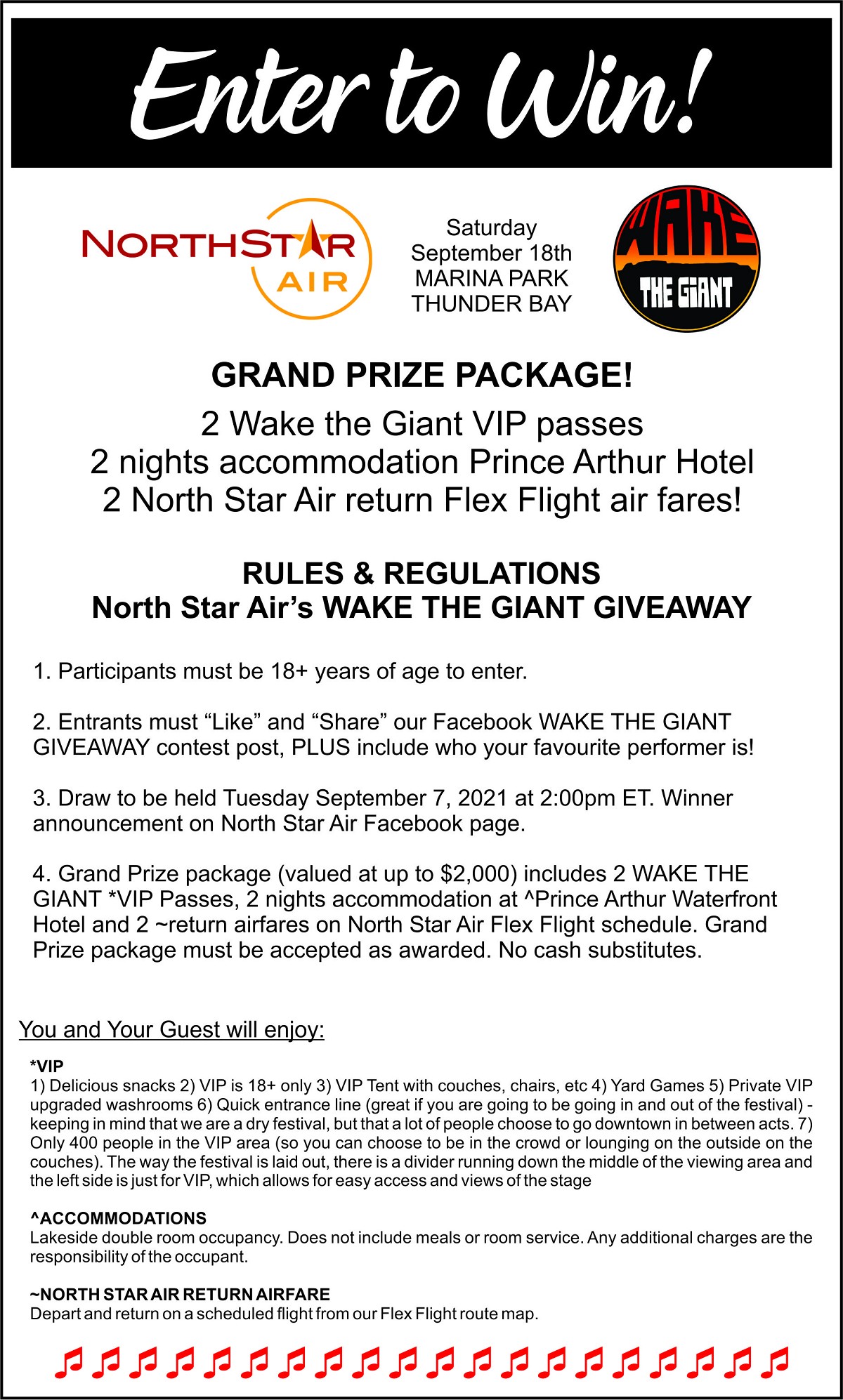 #wakethegiant #northstarair