Hello Friends! As we all know, air travel since the start of the pandemic has changed drastically! While our scheduled passenger service has been reduced, there are alternatives to those that may require a dedicated flight during these times. Not to worry! At North Star Air we provide safe Charter service to any location!
Recently we sat down with North Star Air's Charter Specialists' Allie Budner and Taylor Crago and talked everything Charters.
NSA: ALLIE, WHAT DOES "AIR CHARTER" MEAN?
Allie: An air charter is the renting of an entire aircraft and its services, for a specific customer or group. We have aircraft readily available that can accommodate up to 9 passengers and their cargo on our Pilatus and up to 30 passengers plus cargo on our Dash-8.

NSA: SO THEN TAYLOR, WHAT IS THE DIFFERENCE BETWEEN A REGULAR FLIGHT AND A CHARTER FLIGHT?
Taylor: The difference is that a regular flight is organized and scheduled and runs off of the purchase of individual seats, whereas a charter is the use of the entire aircraft soley for you and your party. You are unable to purchase individual seats on a chartered flight.
NSA: HOW DO CHARTER FLIGHTS WORK?
Allie: Charters are frequently used and worked around specific customers and/or companies needs. Such as; specific times of departure, holding times in location, the ability to move Dangerous Goods material, time sensitive travel or freight movement, and required privacy. They are booked and organized through our Charters department, who monitor the communication and online systems to create a smooth information exchange and flight plan.
NSA: WHAT SHOULD A PERSON EXPECT WHEN FLYING ON A NSA CHARTER FLIGHT?
Allie: As the choice of departure times, destinations, passengers, and cargo are all in the hands of the booking customer/company, you can expect to have a far more exclusive and personal experience. As you will have the entire aircraft at your disposal, we do our very best to reach above and beyond all specific needs and requirements for the charter. For example, each charter is set up with a commissary of light snacks and beverages to get you and your party through your flight.
NSA: WHERE DO NORTH STAR AIR CHARTER FLIGHTS DEPART FROM?
Taylor: As we run a high number of chartered flights day to day, we have the vast majority of charters depart from our hangar. This allows for some separation from our scheduled flights. In doing this, it enables us to accommodate all charter passengers in our private Charters Lounge, giving our charter groups access to their own washroom, meeting area, complimentary coffee, and direct access to the aircraft for boarding.
Allie: Keep in mind also that North Star Air has a huge network with bases in Sioux Lookout, Red Lake, Pickle Lake, Thunder Bay, Kapuskasing and Thompson MB to accommodate your charter needs. My team and I are a one-stop charter service for all your passenger, freight and cargo requirements. So bottom line: with one call, we can do it all!!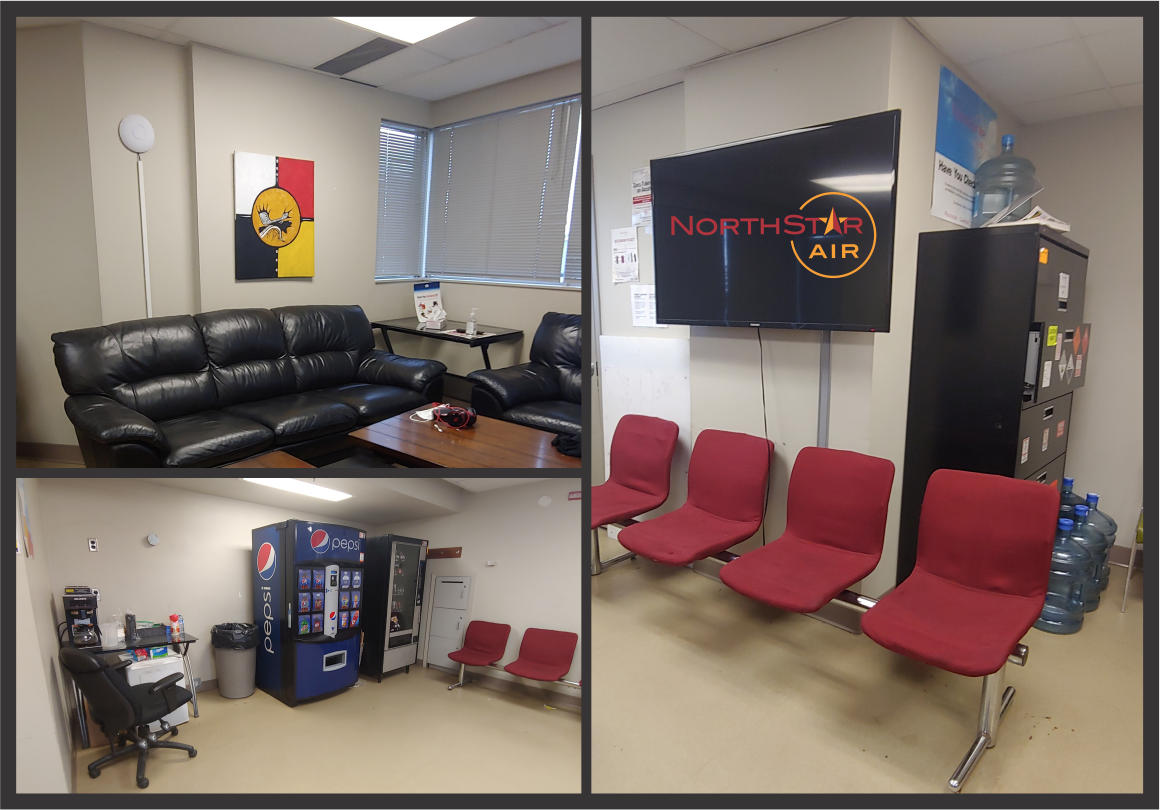 NSA: ARE MEALS SERVED ON A CHARTER FLIGHT?
Allie: Meals are not provided for charters unless requested by the booking customer. However, we have a great working relationship with catering companies, who are equipped to create meals and/or snacks, whether hot or cold, that will suit the needs of the passengers. Dietary restrictions pose no issue. The cost of catering is then incorporated into the overall cost of your charter, should you choose to order.
NSA: CAN A CHARTER BE USED TO SHIP CARGO?
Allie: Absolutely! Chartering a cargo aircraft is a frequent occurrence at North Star Air. They are the fastest way to get your freight from point A to point B. Cargo charters are generally set up by contractors, schools, companies, individuals, and remote communities, who are looking to move large quantities, bulky, or time sensitive freight. We have many different base locations as well as aircraft sizes to choose from. With help from us and our hard working and well trained base staff, we are ready to ensure your cargo shipment, large or small, runs smoothly.
NSA: OK ALLIE, SO THE BIG QUESTION…..WHAT DOES IT COST TO CHARTER A DEDICATED AIRCRAFT?
Allie: Charter costs can fluctuate. Most charters run on a per mile rate, with added airport, fuel, holding charges included. Cost will vary with chosen aircraft, load size, and passenger amount.
NSA: SO LADIES, IF SOMEONE WANTED TO BOOK A CHARTER, HOW DO THEY GO ABOUT IT?
Allie: They can call our toll-free number 1.844.633.6294 or email us at charters@northstarair.ca. Taylor and myself are standing by!
NSA: THANK YOU ALLIE AND TAYLOR FOR TAKING THE TIME TO TALK ABOUT CHARTERS WITH US!
If you or your business would like more information or to book a dedicated charter with North Star Air, please contact Allie or Taylor today!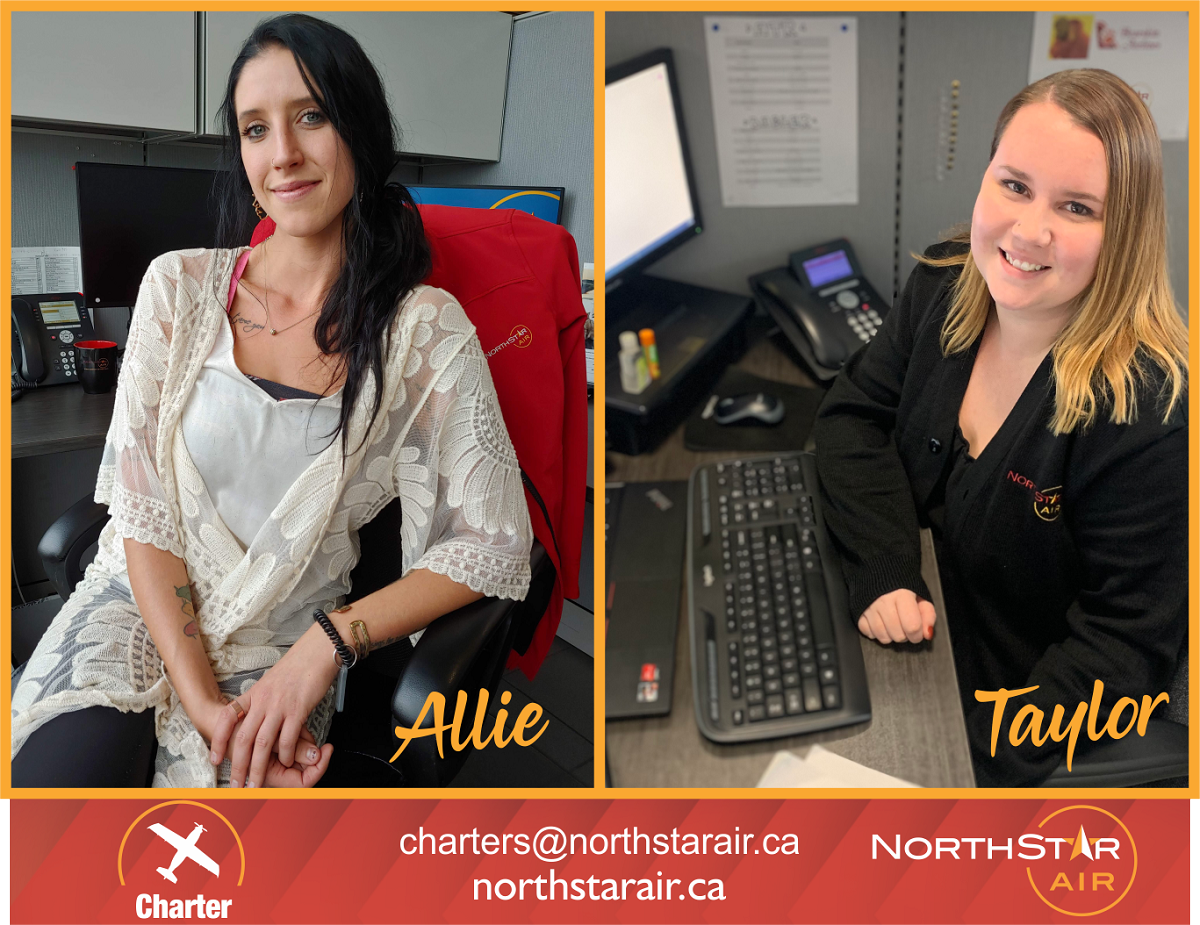 Meet Allie and Taylor, our Charter Specialists with over 10 years experience in Aviation!